The days of cars sitting unused in garages or on driveways across the UK are over. The introduction of the Continuous Insurance Enforcement legislation this month has forced drivers to either have insurance for their vehicle or to declare it as officially off the road with a Statutory Off Road Notification. The legislation was introduced with the intention of clamping down on uninsured drivers using Britain's roads – a problem that was becoming widespread until recently.
Earlier this year, as many as one in six motorists told researchers from moneysupermarket.com that they had driven a car they weren't insured to drive, with seven per cent of those surveyed having driven on someone else's insurance policy and seven per cent having driven with no insurance at all.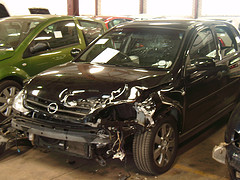 Moneysupermarket, which helps drivers find cheaper car insurance quotes by comparing deals offered by a range of insurers, also found in its research that 56 per cent of motorists would be more vigilant about making sure their car was covered appropriately.
Worryingly, one in 10 drivers surveyed said that CIE wouldn't change their approach to car insurance, suggesting that they would simply accept a fine if caught driving without the appropriate insurance cover.
Peter Harrison, car insurance expert said: "The number of drivers prepared to hit the road without insurance is a huge concern. It is illegal to get behind the wheel without adequate cover and should you be involved in a crash when not insured you could face thousands of pounds in liability, a conviction including six points on your license as well as charges of up to £5,000."
Ashton West, Chief Executive at the Motor Insurers' Bureau, said: "The change in law is a stepping up of enforcement activity, so that not only those vehicles driven without insurance will be caught.  Now the registered keeper must make sure that their vehicle is insured all the time.
"In order to make sure everyone is aware of the new scheme, a national awareness campaign will be shown on satellite and terrestrial TV channels.
"Around four per cent of vehicles have no motor insurance at any given time and this needs to change so that is why this new enforcement approach is so important."
photo credit: :: shodan ::.