If you are looking to save money on ATM fees, you should search for a bank or credit union that is a part of the Allpoint ATM network. Allpoint offers all member banks free ATM withdrawals from their branded machines – and there are over 37,000 of them in the US, meaning you are never far away from your money. After all, why should you have to pay to access your money?
Many prominent banks and credit unions are part of the Allpoint ATM network, including a personal favorite of mine, ING Direct. Free ATM access is just one way that you can maximize your returns on your high yield savings account. Here is more info about the Allpoint ATM Network.
Allpoint ATM Network Facts
America's Largest Surcharge-Free ATM Network.
37,000 Surcharge-Free ATMs Around the World.
1 out of 12 ATMs in America is an Allpoint Surcharge-Free ATM.
Convenient Locations: Allpoint ATMs are Located in National and Regional Retailers such as 7-Eleven, Target, and Costco.
Allpoint ATMS by region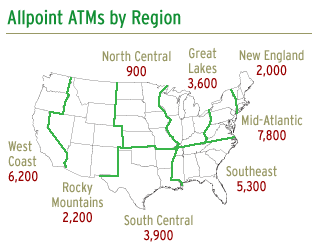 Allpoint ATMs by State
Use the Allpoint ATM locator to locate ATMs near you.