The Fairbanking Foundation is a charity which aims at evaluating banking providers in its accreditation scheme. Their objective is to encourage banking providers to help improve the financial well-being of its customers. The foundation believes that such providers like banks, building societies and others have or owe a duty of care to their customers and even the country. They should collectively act for the common good.
The Fairbanking programme of awarding marks is aimed at that objective and has to coax the industry to move in a customer oriented direction. If there is a credit evaluation for customers, where the individual is given Credit Scores, subject to Credit Checks then, he has to get a Free Credit Report to monitor his status. So why not an evaluation for banking providers and products. This approach now is relevant  as the recent banking crisis saw bail-outs to this sector being made using taxpayers money.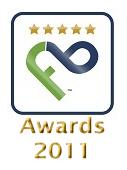 After evaluating 250 odd current accounts and other financial products eligible, such as,  current accounts with and without overdraft facility, savings accounts and credit cards, offered by more than 40 institutions, Fairbanking Marks were announced. Only four made the mark! The four were awarded the lowest mark of Three Star by Fairbanking.
They were-
'Your Savings Goal' a tool provided by RBS/NatWest
Goal Saver account provided by Saffron Building Society
the non-overdraft current account provided by Secure Trust Bank
the non-overdraft current account provided by ThinkBanking.
Royal Bank of Scotland/NatWest's 'Your Savings Goal'
This product is more of a tool that can be used on any of the bank's savings products. If it suits your savings goals, such as, a car, a holiday, or a wedding, then it can be used . You can, using the online banking tool, choose the goal, calculate the ideal savings plan and track your progress online. The product is presented both with graphics and numbers. Your can find out how much to save for how long to reach one or more goals.
Saffron Building Society's Goal Saver account
This online savings account has a competitive interest rate. It is monitored according to 10 best online accounts published by Moneyfacts. Access is allowed to your money without penalties whenever you are in need of it. It can be opened online as part of the society's Saffron Money Tree services. The product helps you to work out how much you need to save for specific goals. Then you use the Society's plan to work out your saving.
Secure Trust Bank's Current Account
Secure Trust Bank is listed and regulated like others, by the FSA and affiliated to the Financial Compensation Scheme. Their Current Account is an account designed to help you manage your money and is open to all. The account does not collect bank charges or fees for bounced Direct Debits or standing orders but has a £12.50 monthly fee. The account comes with a Master Card Prepaid Card which has to be loaded before spending . Thus it is separated from your money in the Current Account. The Prepaid Card can give you cash rewards on purchases made both online and in store. At participating retailers. You can stay informed of transactions by phone or internet.
Thinkbanking's Current Account.
This banking account is a current account service designed by the Think Money Group and run by RBS. This non-overdraft current account comes with a tool which adds a payment forecasting feature that helps customers to analyse spending and set budgets. This non-debt current account sets aside money the customer needs to pay for bills. The rest is automatically put into a card account. Funds for spending are taken from here and prevents from overdrawing by customers. This ThinkBanking account is open to all and even for one with a poor credit history. Customers are not charged overdraft fees.
These awarded products will be able to display the Fairbanking mark on their brochures and web pages. Fairbanking is not a consumerist and try to balance their act between interest of customer, the banking industry and the country. The usefulness of these products cannot be underestimated as inflation has had a bad effect on savings. Around 10% of Britons have stopped savings, according to some reports. The Fairbanking view is that banks have a responsibility to act in the common good. According to its Director Antony Elliot, the rating and mark intends to improve the non-price competition among banks and improve awareness in the consumer and industry. Fairbanking is a not-for-profit  research based charity. The foundation works to creating mutual financial benefit between the provider and the customer.